Want to Increase Diversity in Study Abroad?

Why It's Important to Show Broader Impacts of Study Abroad on Retention and Success

Gary Rhodes
Associate Dean, International Education & Senior International Officer,
College of Extended & International Education
Director, Center for Global Education
California State University at Dominguez Hills
Many in the study abroad field continue to highlight the need to increase diversity in study abroad. It is logical that the first place to look to diversify study abroad numbers are institutions that are listed by the U.S. Department of Education as Minority Serving Institutions. Looking at the U.S. Department of Education list of Minority Serving Institutions (https://www2.ed.gov/about/offices/list/ocr/edlite-minorityinst-list-tab.html) include a significant number of community colleges across the U.S. According to the Foundation for California Community Colleges, over 60 percent of Community College students are people of diverse ethnic backgrounds (https://www.foundationccc.org/AbouttheColleges/FactsandFigures/tabid/636/Default.aspx). This is a much higher percentage than will be found in most four year colleges and universities.
In many universities, the main argument in support of study abroad participation is the international learning that takes place during study abroad. This can include language-learning, classes that focus on issues in countries outside the U.S., as well as learning about the cities and countries where students study. While this is an important component of study abroad, it may not speak to the priorities of many who students, including those from diverse backgrounds. State and federal policy makers, as well as many administrators who provide special support for students from diverse backgrounds may focus on other issues as more critical for students. This includes getting more students from diverse backgrounds to college, supporting their completion of their studies in college, and a successful move forward to graduate school or a career.
This has led a number of institutions to look more closely at the impact of study abroad on the retention and success of their students in college. The Center for Global Education at UCLA has been collecting data from institutions across the U.S. that have been collecting that data (https://globaledresearch.com/study-abroad-impact.asp). Some of the findings that have been promising have included:
At Indiana University

Using the entering cohort from 1999, 95.3% of students who studied abroad graduated within 6 years as compared to 68.5% of students who did not study abroad.

At the University of Minnesota, Twin Cities,

Of Fall 2003 freshmen, 64.5% of those who studied abroad graduated by their 4th year, compared to 41.0% among non-study abroad students.
33.3% of this cohort dropped out by the 4th year compared to only 6.0% of those who studied abroad.

At the Public System of Higher Education in Georgia:

Students who studied abroad had a 17.8% higher 4-year graduation rate.
Students of color who studied abroad had a 17.9% higher 4-year graduation rate.
African-American students who studied abroad had a 31.2% higher four-year graduation rate.
African-Americans who studied abroad had 6-year graduation rates roughly the same as white students who studied abroad (84.4% vs. 88.6%).
Although there are limits to the level of research to point to study abroad as the only contributing factor and issues related to control groups, this data and others have provided promising potential of the potential connection of study abroad to retention and success.
This led to the California Community College Student Outcomes Abroad Research Project (CCC SOAR) carried out by the Center for Global Education at UCLA in cooperation with California Colleges for International Education, and funded by the U.S. Department of Education through a Title VI, International Research and Studies Grant. Demographic and educational descriptive statistics provide background information on study abroad students at California Community Colleges. In that time period at those institutions, there were 14,216 students from the sixteen districts who studied abroad from 2001-2012. In this sample, students studied abroad in 2,742 study abroad sections representing twenty-nine colleges. Of this group, half were twenty years old and younger, 8% were 55 or older, and the remaining 42% were an average of 29 years of age. 60% were women. In terms of ethnicity, 59% were white, 16% were Hispanic, 12.5% were unknown, 9% were Asian/Pacific Islander, 2% were African-American, 1% were Native American, and .5% were multiple-race. When compared to national statistics on university students who study abroad (https://www.iie.org/Research-and-Publications/Open-Doors/Data/US-Study-Abroad/Student-Profile/2001-12), this sample has a slightly larger percentage of male students and a significantly lower ratio of white students. IIE Open Doors data shows that 64.8% of students who study abroad are women (compared to 60% in the CCC SOAR sample) and that 76.4% are white (compared to the 59% in the CCC SOAR sample). These findings support the potential community colleges have for increasing diversity in study abroad.
For the purposes of the study, the RP Group was sub-contracted to do the data analysis. While the Center for Global Education and CCIE are seen as advocates for study abroad, the RP Group has taken on many California Community College research projects and are well known in the California community college research community. This was the first time they looked at issues related to study abroad. One other challenge when looking are retention and success data is the question of using a control group. When looking at the impact, it is important to compare the students who studied abroad with other students with similar characteristics. In the April 2014 Newsletter article, I will go further into the ways to engage in this research at your college or university as well as ways to develop a control group. It is also important to know that most study abroad programs, including those at California Community Colleges do not intentionally try to impact retention and success. So, when comparing study abroad's impact to other reform efforts, it is important to realize that those other reform efforts are designed and implemented in ways to intentionally impact students in that way. In the April 2014 Newsletter article, I will also discuss ways to design study abroad in ways that intentionally impacts retention and success.
Although there are certainly limitations and challenges, as you will see in the data tables below, one can make the case for the potential of study abroad to positively impact retention and success at California Community Colleges generally, and specifically for Hispanic students, based on the CCC SOAR findings below: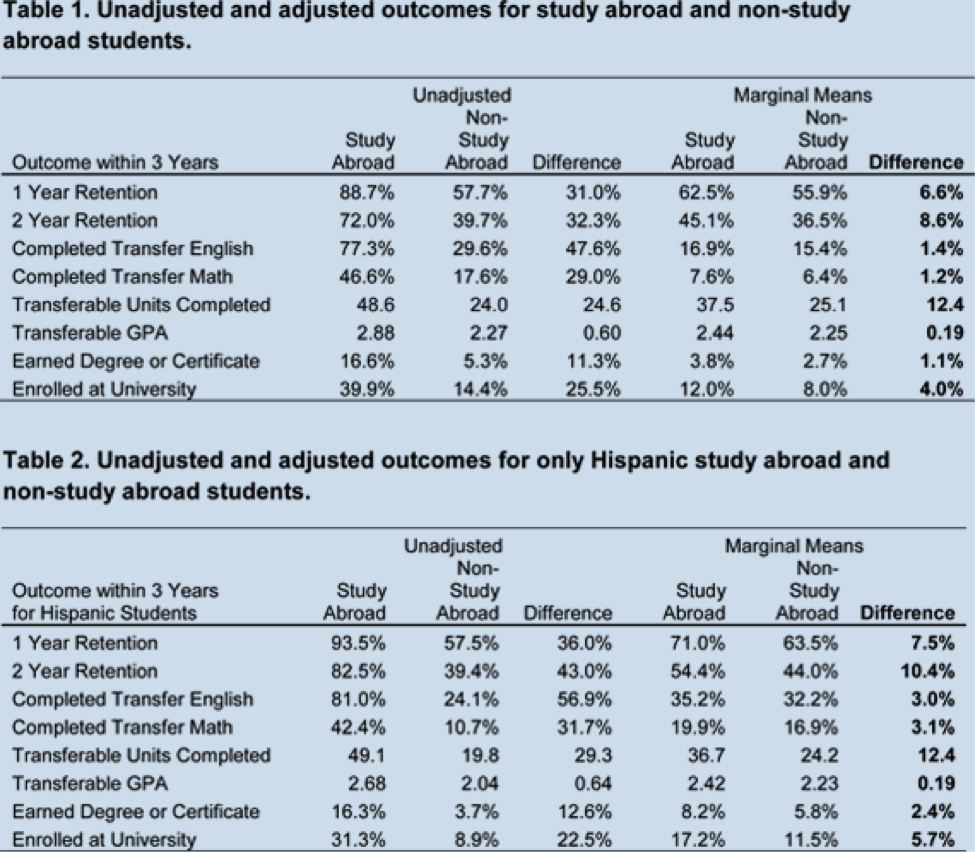 More background about the research and the control groups and research methods for the CCC SOAR research can be found at: www.globaled.us/CCCSOAR.
As noted earlier, in the April 2014 Terra Dotta Newsletter, I will go into more detail on the collaboration between Terra Dotta Software and the Center for Global Education at UCLA to move this research forward.