Strategic Planning at Southern Methodist University
February 10, 2021

Allison Russell, Director of Global Preparedness and Response at Southern Methodist University (SMU), presented during a recent Terra Dotta webinar. For SMU, they were at a different stage of policy creation: strategic planning. This phase involves establishing a foundation for the travel policy and processes for the university as a whole.
Let's take a look at Southern Methodist University:
Mid-sized, private institution
Approximately 11,600 students, 6,400 undergraduates
23% of students study abroad
High level of research-based travel
Multiple international trips imbedded in colleges across campus
Russell stepped into her position just over a year ago after having served as the Health and Safety Manager in SMU's Abroad office. Immediately, she identified some key challenges to the success and effectiveness of their travel policies.
Decentralized international travel operations
No guidance over international travel policy or processes
Poor compliance on travel registration
Decentralized software programs for international travel
Russell noted that their main challenges lay within not having a tracking method for any of the trips. She said, "When they're abroad, we may not even know where they are, what they're doing, what their time frame is for traveling. And so it presents a problem with our ability to appropriately respond during an emergency, or like we saw earlier this year, a global pandemic."
Russell's main focus was and is still to streamline processes with an emphasis on health and safety, and to make sure that SMU has the appropriate measures in place to be able to respond to emergencies and effectively communicate with travelers abroad. Her end goal is to centralize SMU's travel program to be able to support all international travelers, not just undergraduate study abroad.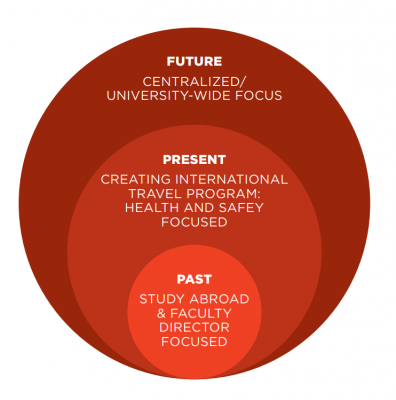 Implementing Tools to Work Smarter
As Russell started to overhaul their existing travel policy, one thing that she set out to accomplish was to establish a single portal system for registration of all travelers to reach her goal of locating travelers and effectively communicating through a reliable tracking platform.
Southern Methodist University chose Terra Dotta to meet their needs. Right now the university has a trio of Terra Dotta's Outgoing Solutions: Study Abroad, Travel Registry, and AlertTraveler®️. However, Allison's focus lies with Travel Registry and AlertTraveler®️. Some of the features important to her office are the workflow tools that automate approval processes, pre-departure orientations, and emergency notifications pushed through AlertTraveler®️.
While this has been a transitional year for many in the field of international education, COVID-19 particularly emphasized SMU's need for a new travel program and the need to put the Terra Dotta implementation timeline into hyperdrive.
Now, their new policies and procedures take a more university wide and holistic approach, are process driven, and are easily reportable with Terra Dotta's tools.
Looking for more resources to prepare for the return to travel? Learn how other universities have evaluated and restructured their travel policies in Terra Dotta's E-Book: Return to Travel: Policy and Practice for a Safer Journey.