Brandon S. Lee,

Chief Executive Officer

Brandon has always been passionate about study abroad. This passion, paired with his own experiences abroad, led him to start Terra Dotta with co-founder Garrett Christian. He is a common sight at national and international conferences, where one is equally likely to find him behind the podium discussing trends in the field as behind the karaoke microphone. While Brandon is thrilled to meet Terra Dotta's clients' needs, he knows that it's the students who ultimately benefit. He explains that "anything we can do to broaden student experiences, while also working to keep them safe, makes me smile at the end of the day."

Brandon is responsible for all aspects of managing Terra Dotta's business. He works with the division directors to strategize about the future of the company, as well as on the marketing and sales efforts for TDS for Study Abroad, ISSS, Risk Management, and Application Management.

Brandon's first study abroad experience in Pornic, France inspired him to continue French Studies. He earned a B.A. in French from The Ohio State University and an M.A. in Romance Languages, teaching French and Communications along the way, from the University of North Carolina at Chapel Hill. He lives with his wife and three children in Hickory, North Carolina.
Garrett Christian,

Chief Strategy Officer

Garrett's responsibilities include product development strategy, systems analysis, project management and information security. Before there was Terra Dotta, Garrett gained his database- and software-engineering experience in the credit card division at AT&T, but then he took a detour. Having studied abroad in Granada, Spain, as an undergrad, Garrett decided to go back and pursue graduate studies in Romance Philology at the University of North Carolina at Chapel Hill. He received his M.A. in 1997, and later obtained a fellowship for doctoral research at the Universidad de Navarra in Pamplona, Spain, where he and his wife spent a year, 1999-2000.

While at UNC, Garrett met Brandon, and with their common interest in instructional technology, the two established a new Technology Coordinator position for teaching assistants in the Department of Romance Languages, creating web resources for language instruction. This collaboration led them to pursue an ambitious effort in the Office of Study Abroad to create a virtually paperless office. The database/web system that was launched in 1999 is still in use today and served as the proof of concept for what eventually became Terra Dotta software.
Michael McKeown,

Chief Operating Officer

Michael provides leadership for Terra Dotta's business strategy, support operations, and financial and contract management. He has three decades of business management experience

Michael joined Terra Dotta in 2006 after 23 years at Land O'Lakes, Inc., a Fortune 500 company, where he was Director of Production & Project Services in the Information Systems Division. At Land O'Lakes, Michael directed 85 operations, network and support staff. He was responsible for the operation of a data center with 420 Windows and Unix servers and a nationwide network connecting over 350 manufacturing plants and distribution centers. He directly led major technology projects, integrated acquired businesses into the company's computing environment, and wrote strategy papers related to technology and system direction.

Michael was a Peace Corps Volunteer in the Dominican Republic. He has extensive international consulting experience in business and leadership development. He has conducted training programs in free-enterprise business methods and consulted in rural business development in Paraguay, Kenya, Zambia, Ghana, Slovakia, Bulgaria, Nepal, and Belize.
Brendan Haggerty,

Chief Technology Officer

Brendan is responsible for the Development, Professional Services, and Customer Support organizations at Terra Dotta bringing over 20 years' experience in software development and SaaS operations.

Prior to joining Terra Dotta, Brendan was the Chief Technology Officer for Clarabridge where he oversaw the product as it grew from startup phase to a SaaS solution processing billions of customer feedback records annually. He managed the Operations and Customer Support Organization which supported global data centers with around the clock support on over 400 servers. Brendan worked for SAP as a Product Manager for SAP Public Sector Procurement and was a Senior Principal at American Management Systems earlier in his career.

Brendan received his master's degree from Carnegie Mellon University and his undergraduate degree in Computer Science from Bucknell University which included a semester abroad in the United Kingdom.
Business Development
& Marketing Teams
James Lee,

DIRECTOR OF BUSINESS DEVELOPMENT

James manages Terra Dotta's sales efforts. He holds a marketing degree from the University of Wisconsin-Whitewater and has more than 30 years of sales and sales management experience. His travels abroad have led him to more than 20 countries. Through his travels, James's appreciation for diversity and varying cultures continues to grow. He can be reached at james.lee@terradotta.com.
John Duncan,

BUSINESS DEVELOPMENT

John is a key member of the Terra Dotta sales team with more than 12 years of experience in the study abroad community. John was with Educational Dynamics for 7½ years, managing and promoting StudyAbroad.com, before joining Terra Dotta in January 2009. He is always happy to meet new people, connect with colleagues, and discuss the needs of higher education in the areas of study abroad and international student and scholar services. He can be reached at john.duncan@terradotta.com.
Adam Breen,

BUSINESS DEVELOPMENT

Adam draws on his experience in international education and international business to match the needs of potential clients with Terra Dotta software and services. He has lived and worked abroad, speaks German, and holds a BA in history from Northern Arizona University, where he studied abroad in Tuebingen and Munich, Germany. He worked 3 years for a study abroad organization in university relations, establishing partnerships with universities across the country to increase study abroad enrollment. Prior to that, he worked for Cold Stone Creamery, where he was responsible for successful brand adaptation in Japan, Korea, China, Indonesia, and the Middle East. Thinking globally but acting locally, he volunteers for Hospice of the Valley, Phoenix Sister Cities, and the Phoenix Men's Arts Council. He can be reached at adam.breen@terradotta.com.
Cecilia Scheibner,

BUSINESS DEVELOPMENT

Cecilia is the newest member of the Sales and Marketing team, bringing a high level of enthusiasm and business development experience with her. She was a top executive sales director at University Specialty Publication after earning her BA in Communications from the University of North Carolina at Charlotte. Cecilia thrives on making connections and building new relationships. Outside of work, interests include skiing, hiking, horseback riding and more recently, golf. She can be reached at cecilia.scheibner@terradotta.com.
Melissa Elliotte,

BUSINESS DEVELOPMENT

Melissa's previous experience in international admissions at Franklin University Switzerland as well as study abroad at Arcadia University place her in an excellent position to understand the goals and challenges of Terra Dotta clients. She has been part of the international education field for ten years in four different countries. Melissa holds a B.A. in European Studies from Vanderbilt University and an M.A. in French from Middlebury College. Outside of work, interests include gigging, hiking, creative writing, ESL tutoring at elementary schools and vinyasa yoga. She can be reached at melissa.elliotte@terradotta.com.
Jennifer Flannery,

BUSINESS DEVELOPMENT

Jennifer's first study abroad trip was at age 14 and she was hooked immediately. She has worked more than 16 years in international education in roles at a program provider, an embassy, as an international recruiter and at The University of Melbourne in Australia. Passionate about social justice issues, she has volunteered abroad in Brazil, India, Mexico and Thailand. She has a B.S. in Biology/Biochemistry and an M.S. in Communication Management, both from Colorado State University. Jennifer has presented numerous conference sessions over the years. She is currently the Region 3 Coach for the NAFSA Academy and will go through NAFSA Trainer Corps induction in May 2017. Jennifer is an Up With People alumna, a certified barista, loves the outdoors, and encourages anyone to bungee jump when they get the chance. She can be reached at jennifer.flannery@terradotta.com.
Travis Ulrich,

ISSS Product Manager

Travis brings over twelve years of experience in international education and international student and scholar services to Terra Dotta. Prior to joining the Sales and Marketing team in 2015, Travis provided leadership to enhance and support international student and scholar services and campus internationalization efforts at the University of Illinois at Chicago and the University of Wisconsin – Madison. In addition to his extensive knowledge of federal immigration regulations and SEVIS reporting procedures, he also possesses significant experience in both travel and study abroad. Travis enjoys working with our clients to help advance their international education goals by utilizing Terra Dotta software to improve processes related to student support, data management and compliance. He can be reached at travis.ulrich@terradotta.com.
Daniel Bullins,

Sales Engineer

Daniel acts as a liaison between Terra Dotta's Business Development, Marketing, Support, and Technical departments. His primary duties include leading all technical sales calls during the purchasing process, responding to institutional security surveys and request for proposals, and maintenance of all Terra Dotta software demonstration websites. Daniel graduated from Lenoir-Rhyne University with a B.A. in English. He enjoys playing guitar and reading in his free time. Daniel can be reached at daniel.bullins@terradotta.com.
Marty Greenham,

DIRECTOR OF MARKETING

Marty leads Terra Dotta in its marketing strategies and communication goals. With more than 30 years in the field of international education and experience in marketing and outreach, he is uniquely equipped to address industry needs. His business and personal travels include more than 80 countries, with extended stays in Europe and Central America. He can be reached at marty.greenham@terradotta.com.
Michelle gammon,

MARKETING Specialist

Michelle administers Terra Dotta's Salesforce instance and coordinates brand identity efforts. She also manages Terra Dotta's marketing website and assists with conference participation and corporate event planning. Michelle has a passion for graphic design and provides a leadership role on the marketing team with regard to demonstration videos and advertisements for the company website, marketing campaigns, and conferences. Michelle began working for Terra Dotta in May of 2010. A graduate of North Carolina State University, she has a B.S. in Business Management with a concentration in Marketing. She also studied abroad at Universität Pompeu Fabra in Barcelona, Spain. Outside of work, Michelle enjoys attending NCSU football games, spending time with her family and friends, and being active outdoors. Michelle can be reached at michelle.gammon@terradotta.com.
Kerry Geffert,

Product Evangelist

Kerry joins Terra Dotta bringing 30+ years of experience within international education. His background includes more than a dozen years at universities in Oklahoma and New York working in international student services, including several recruitment trips in the Pacific Rim and Europe. He then moved into education abroad taking on leadership roles for three program providers. Kerry studied abroad in Germany through Kalamazoo College then completed graduate studies at Bowling Green State University. A long time NAFSAn, Kerry has served on committees, and has held appointed and elected positions at the regional and national levels, including Newsletter Editor, Regional Chair, Nominations & Elections Chair, Annual Conference Chair, Chair of the Education Abroad Knowledge Community and Chair/Lead Trainer of the highly successful Management Development Program. Combined with extensive personal and business travel, and a large network of colleagues developed through years of institutional relations and NAFSA leadership, Kerry is ready to apply his experiences to further Terra Dotta's leadership position in international education. He can be reached at kerry.geffert@terradotta.com.
The Terra Dotta team is dedicated
to supporting client needs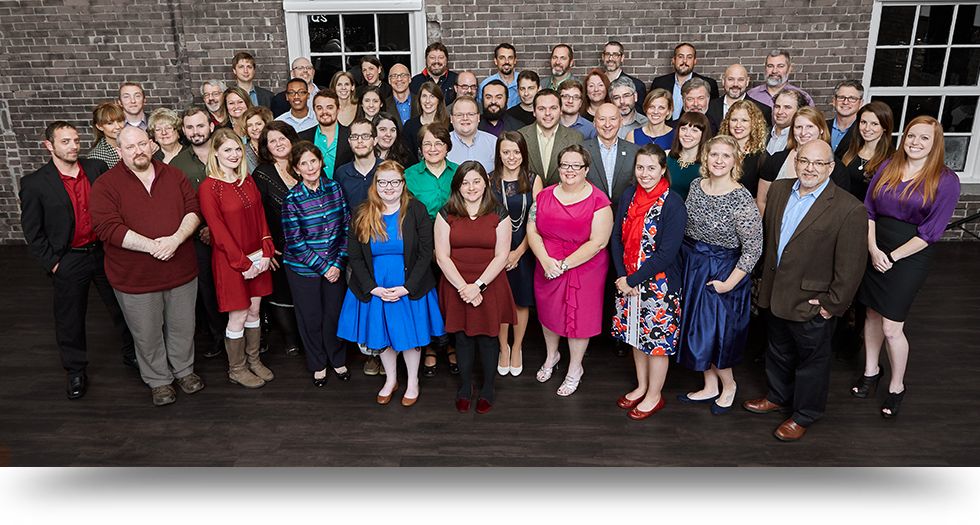 Pictured: All-Staff Meetings December 2016 in Chapel Hill, NC