Brandon S. Lee,

Chief Executive Officer

Brandon has always been passionate about study abroad. This passion, paired with his own experiences abroad, led him to start Terra Dotta with co-founder Garrett Christian. He is a common sight at national and international conferences, where one is equally likely to find him behind the podium discussing trends in the field as behind the karaoke microphone. While Brandon is thrilled to meet Terra Dotta's clients' needs, he knows that it's the students who ultimately benefit. He explains that "anything we can do to broaden student experiences, while also working to keep them safe, makes me smile at the end of the day."

Brandon is responsible for all aspects of managing Terra Dotta's business. He works with the division directors to strategize about the future of the company, as well as on the marketing and sales efforts for TDS for Study Abroad, ISSS, Risk Management, and Application Management.

Brandon's first study abroad experience in Pornic, France inspired him to continue French Studies. He earned a B.A. in French from The Ohio State University and an M.A. in Romance Languages, teaching French and Communications along the way, from the University of North Carolina at Chapel Hill. He lives with his wife and three children in Hickory, North Carolina.
Garrett Christian,

Chief Strategy Officer

Garrett works closely with Brandon to chart the course for the company, guided by Terra Dotta's mission to provide unparalleled solutions to facilitate global education. Before there was Terra Dotta, Garrett gained his database- and software-engineering experience in the credit card division at AT&T, but then he took a detour. Having studied abroad in Granada, Spain, as an undergrad, Garrett decided to go back and pursue graduate studies in Romance Philology at the University of North Carolina at Chapel Hill. He received his M.A. in 1997, and later obtained a fellowship for doctoral research at the Universidad de Navarra in Pamplona, Spain, where he and his wife spent a year, 1999-2000.

While at UNC, Garrett met Brandon, and with their common interest in instructional technology, the two established a new Technology Coordinator position for teaching assistants in the Department of Romance Languages, creating web resources for language instruction. This collaboration led them to pursue an ambitious effort in the Office of Study Abroad to create a virtually paperless office. The database/web system that was launched in 1999 served as the proof of concept for what eventually became Terra Dotta software.
Brendan Haggerty,

Chief Technology Officer

Brendan is responsible for the Development, Professional Services, and Customer Support organizations at Terra Dotta bringing over 20 years' experience in software development and SaaS operations.

Prior to joining Terra Dotta, Brendan was the Chief Technology Officer for Clarabridge where he oversaw the product as it grew from startup phase to a SaaS solution processing billions of customer feedback records annually. He managed the Operations and Customer Support Organization which supported global data centers with around the clock support on over 400 servers. Brendan worked for SAP as a Product Manager for SAP Public Sector Procurement and was a Senior Principal at American Management Systems earlier in his career.

Brendan received his master's degree from Carnegie Mellon University and his undergraduate degree in Computer Science from Bucknell University which included a semester abroad in the United Kingdom.
Cheryl Boeckman,

SENIOR Vice President of GLOBAL Sales

Cheryl Boeckman is Terra Dotta's new Senior Vice President of Sales. She is responsible for leading the sales team in matching Terra Dotta's solutions to the needs of our clients managing international student offices, study abroad programs, and risk management. Cheryl directs forecasting, revenue production, the sales process, strategy, and customer relationships.

Cheryl has spent the last 25 years in global technology sales. In the past 15 years she has held executive positions in the EdTech industry, most recently as the Global Vice President of Sales and Marketing with Blackboard Transact. There she led the sales and marketing of solutions for the electronic/mobile campus credential including security, commerce, payment processing and financial aid disbursement. Cheryl was involved in the strategic combination of three acquisitions at Blackboard: CardSmith, Sequoia Retail Systems and HigherOne's Cashnet business. Prior to joining Blackboard, she served as Vice President of Customer Relationships, responsible for the Recruitment & Admissions and Advancement solutions teams at SunGard Higher Education which later became Ellucian.

Cheryl has traveled the world for the last 25+ years and has visited many countries, meeting many wonderful people. Her favorite destinations include Australia; Phuket, Thailand; and Windsor, UK. She can be reached at cheryl.boeckman@terradotta.com.
Marty Greenham,

VICE PRESIDENT OF Marketing

Marty leads Terra Dotta in its marketing strategies and communication goals. With more than 30 years in the field of international education and experience in marketing and outreach, he is uniquely equipped to address industry needs. His business and personal travels include more than 65 countries, with extended stays in Europe and Central America. He can be reached at marty.greenham@terradotta.com.
JameS Lee,

Director of relationship Management

James manages Terra Dotta's customer relationship efforts. With over 10 years at Terra Dotta, he knows the operations and the people at Terra Dotta that will allow him to locate the right resources to meet a customer's need. James has strong relationships within the Terra Dotta client base and has a passion for helping our customers get the most out of their TDS solutions. He holds a marketing degree from the University of Wisconsin-Whitewater and has more than 30 years of sales and sales management experience. His travels abroad have led him to more than 20 countries. Through his travels, James's appreciation for diversity and varying cultures continues to grow. He can be reached at james.lee@terradotta.com.
Erica Masten,

Director of Support Services

Erica is the Director of Support Services. She joined Terra Dotta in 2008, bringing with her a passion for international education and an extensive student-perspective of study abroad. She holds two degrees from UNC-Chapel Hill; a Master in Business Administration and an undergraduate degree in International Studies. During her undergraduate studies she completed three semesters of study abroad including one semester in Perth, Australia; another in Bangkok, Thailand; and a third in Xalapa, Mexico. After graduation Erica spent a year teaching Spanish at a public middle school in North Carolina and then moved to the Dominican Republic where she taught English as a Second Language for a year and a half. Erica oversees Terra Dotta's support team and is responsible for support services such as the case system, support website, training services, user documentation, and implementation assistance.
Mark Landon,

Director of Professional Services

Mark heads Terra Dotta's Professional Services department. He is responsible for the team that delivers Terra Dotta Administrator Service, Tune-ups, and Onsite and Webinar-based training. Mark is also the first point of contact for clients requesting technical professional services like payment gateway integrations and custom reports. Mark helped develop Terra Dotta's One-Week Workshop program. Prior to working with Terra Dotta, Mark was co-founder and Chief Technology Officer at EDU, Inc. (now Education Dynamics), the company responsible for StudyAbroad.com and GradSchools.com. At EDU, Mark provided technology leadership while keeping a hand in product design, sales, marketing, and professional services. A member of NAFSA since 1996, Mark has been a frequent presenter at national and regional conferences. Mark holds a B.A. in Journalism from Penn State and works from his home office in West Chester, PA.
Tim Wojoski,

Director of Product Development

Tim is responsible for pre-sales support and technical coordination of TDS implementations. His extensive knowledge, gained from years in international education and from using Terra Dotta software for more than 6 years at the University of Virginia, serves as a valuable resource for business and technical stakeholders of Terra Dotta's new and potential clients. Tim was the technology manager for education abroad at the University of Virginia. He has 7 years of experience in international education and led Virginia's implementation of TDS. He was a study abroad advisor for 5 years before assuming his role as technology manager at the university. His own personal study abroad experiences led him to Australia, Spain, and Costa Rica.
The Terra Dotta team is dedicated
to supporting client needs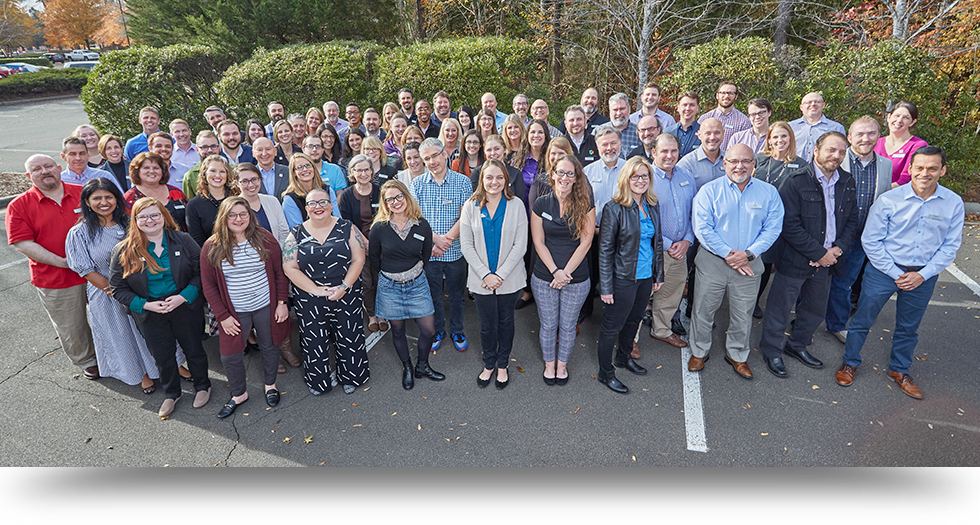 Pictured: All-Staff Meetings December 2018 in Chapel Hill, NC