FUND FOR EDUCATION ABROAD:
A MODEL FOR COLLABORATION

Kerry Geffert
Product Evangelist, Terra Dotta
The profile of students participating in study abroad has certainly changed. What was once a privilege for a smaller group of rather homogeneous students (of which I was one) has progressed to an experience in which the majority of students entering college are interested. However, we know that the majority of those new students will not take advantage of a period of furthering their education in an overseas location.
There are many reasons why these students do not participate in education abroad, reasons that continue to be discussed in our professional literature. Cultural ties play a part as do the lack of familial support and study abroad role models for students for whom higher education is a new family endeavor. Fear of the unknown keeps some students on campus as they continue to adjust to the university experience. And then there are financial impediments, most real, but some perceived. These forces all combine to keep students from even investigating an overseas opportunity.
Fortunately, international education has not simply thrown up its hand at these forces. Just about every study abroad provider has some form of grant or scholarship that seeks to expand the study abroad student profile and increase opportunities for a more diverse population. Organizations such as Diversity Abroad have made significant inroads in promoting more inclusion and financial support. And in 2010 the Fund for Education Abroad was founded "to address the need for an independent study abroad scholarship provider." But there's more to FEA than just financial support for education abroad.
To be sure, financial support is a key component of the FEA mission. As stated in their vision, they "envision a future in which any U.S. student who dreams of studying abroad will be able to participate." Through 2017 FEA had funded 167 undergraduate students with more than $775,000 in scholarships, providing "access and equity" to underrepresented students, especially from minority, community college and first-generation backgrounds.
Those figures, however, do not convey just how quickly support for FEA scholarships has grown because approximately 30% of the scholarships and funds were awarded in 2017 alone. Then in 2018, FEA doubled its awards, awarding 100 scholarships totaling $335,000, a 49% increase in funds over 2017, according to an FEA press release. This is all good news, until the whole picture is examined. That same press release explains that the 100 recipients "were selected from a pool of over 2,300 applicants." That's only 4.3% of the total applicants. While an increase over 2017, to increase the percentage of awards to the 8-10% called for in the FEA Strategic Plan would take new ideas and initiatives.
Enter the Access Partner Program, the brainchild of Jennifer Calvert, FEA Executive Director, and Martha Johnson, Chair of the FEA Board. Johnson, like myself, was at one time a "study abroad road warrior." Road warriors, by virtue of constant contact and professional dedication, know not only their own programs, but also learn about their colleague's programs. In practice a collegiality develops whereby a representative refers a student to another program when your own programs do not meet that student's needs. After all, the goal is to provide as many opportunities as possible for students to study abroad (while, of course, filling your own programs).
Why not take that spirit of collaboration to the organizational level? "Providers and vendors don't have many opportunities to come together," Johnson said recently. Let's "get them all in the same room and ask for help on a common good. Have them involved in the conversation." Thus, in November 2017 FEA launched its' Access Partner program with an Access Advisory Board (AAB). "The AAB is a collaborative venture that was developed to bring together providers and international education leaders as Access partners to create scholarship opportunities for students with financial need seeking to participate in international education academic programs." (November 1, 2017 press release)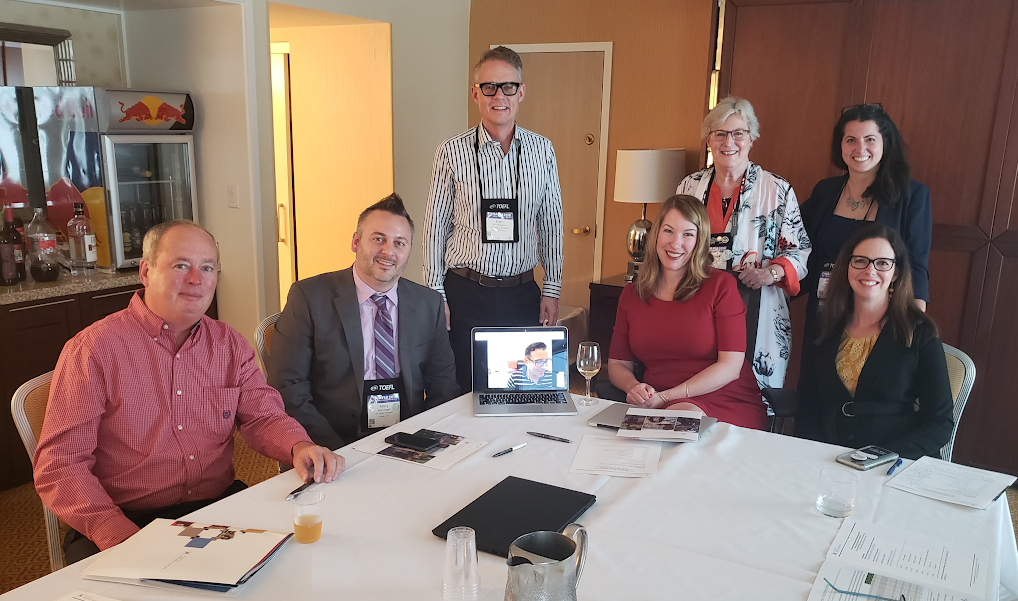 Members of the FEA Access Advisory Board met at NAFSA in Philadelphia. Attending were Paul Watson, AIFS; Mory Pagel, SIT; Brett Berquist, University of Auckland; John Christian (via remote link), CAPA; Martha Johnson, University of Minnesota and FEA Board Chair; Jan Kieling, Retired; Michelle Foley, FEA; and Heather Barclay Hamir, ISFA-Butler. Not pictured, Jennifer Calvert, FEA Executive Director; and Brandon Lee, Terra Dotta.
The importance of this collaboration must not go unnoticed. Education abroad is a competitive business with providers and institutions each seeking to expand enrollments as dictated by their respective strategic plans. Efforts to bring these competitors together in ways that might advance international education to my knowledge have been largely unsuccessful. Thus, the Access Partner program is a special success story. For Paul Watson, Executive Director of AIFS Study Abroad, there is a "collegiality and spirit of cooperation reflected in the group. We are completely mission focused and behind the FEA cause." Program members make a financial commitment knowing that the direct financial payback will likely be less than the contribution, but will help make a student's dream come true. As Brandon Lee, Terra Dotta CEO and AAB member puts it, "it is absolutely amazing to witness the strength of commitment of competitors in the field who come together to increase access to study abroad and change the lives of communities."
The University of Auckland currently stands out as the sole university and international partner of the Access Partner program. Brett Berquist, the University's Director International, wrote "joining the FEA Access Partner program was a no brainer for us. It brings us together with like-minded people who are trying to increase access for education abroad overall. We're doing our part to help our partners with their diversity goals…and want to learn from their work to build strategies that will work for our own outbound goals." For Calvert, this fits right with the plans for the program. "I hope the Access Partners program becomes the organizing principle in the field of international education that will allow all to commit to access and inclusion, and through the power of collaboration, actually move the needle on the diversity of students studying abroad."
The Access Partner program is certainly an important part of the strategic future of the FEA, as well as for education abroad. However, there is much more going on with the Fund for Education Abroad. There are other scholarships – as well as other scholarship funding opportunities – in the FEA portfolio. A major campaign will seek to create more short-term as well as endowed scholarships for the future.
Aside from the financial, one of the hallmarks of the FEA scholarship program is its long-range perspective. The second goal of the FEA Strategic Plan is "Invest in scholars before, during, and after study abroad." Just as every U.S. university knows, the education program is key to alumni success and alumni are key to future program success. FEA alumni are beginning to serve as mentors for future classes of scholarship recipients and ambassadors to spread the word about available FEA funding. An Alumni Council has been formed and will be hosting leadership and career development sessions at their first FEA Alumni Conference in conjunction with the upcoming FEA Scholar Gala.
What's the FEA Gala? Simply put, an affair not to be missed. On November 15, at the Embassy of New Zealand in Washington, DC, scholar alumni, donors, partners and supporters will join to celebrate the work of the Fund for Education Abroad and to raise funds for future scholarships. Last year's event raised over $165,000 to support underrepresented students in their quests for education abroad. If you are within traveling distance, mark your calendar now so you, too, can be part of this important celebration. Even if you can't attend the Gala, you can still support the work of the FEA through your donations and publicizing of FEA scholarship opportunities on your campus and in your community. Give the Experience of a Lifetime.
NOTE: There is still time for students to apply for Spring 2019 FEA scholarships. The current application cycle closes September 18, 2018.