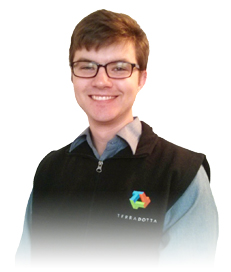 Isaiah Allekotte joined Terra Dotta as a Client Support Specialist in May of 2014. He spends his time providing training and guidance to clients as they prepare to launch their instance of Terra Dotta software. He also serves as a dedicated support representative for TD's Risk Management clients.
Before joining Terra Dotta, he served as Applicants Support Assistant at the Chapman University Center for Global Education and as Assistant Director of Admissions for the Institute for Shipboard Education/Semester at Sea.
He holds a BFA in film production and an MA in Education from Chapman University.
When not working, Isaiah explores experimental music, futurism, and Eastern Philosophy. He hopes to one day travel throughout Scandinavia.
Isaiah noted that he enjoys his role at Terra Dotta because it is "a position that blends client relations and technological processes in the context of international education, which is my passion!"