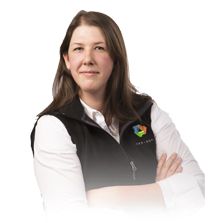 Elizabeth Lostetter is a Client Support Specialist who began working for Terra Dotta in January 2013.
She spends the majority of her time training clients to use the software, which she says is "hands down my favorite thing to do [at Terra Dotta]." She also helps clients solve issues they are having via the client case system and assists with integration projects.
Elizabeth received BAs in English and Music from Macalester College before obtaining an MA in International Studies from the University of Oregon. She also spent time working as an Enrollment Manager for World Endeavors; a Study Abroad Program Coordinator, Europe Programs, at the University of Oregon; and as a Study Abroad Program Coordinator at the University of Nebraska-Lincoln before joining Terra Dotta.
When not assisting Terra Dotta clients, Elizabeth enjoys singing in choir, traveling as much as possible, and reading anything and everything. She hopes to travel to Bali with her husband, Chad, later this year.
When asked why she enjoys working for Terra Dotta, Elizabeth said, "I get to be creative in the different ways I can use the software to address all kinds of needs. Our clients all do very different things and it's fun to see how I can use the tools in the software in so many different ways."